The SR7011
9.2 Channel Network AV Receiver with HEOS Music Streaming Technology
Experience the top of the line Marantz AV Receiver range with the new SR7011. Surround yourself in thrilling 3D surround sound with the most complete immersive format including Dolby Atmos, DTS:X, and Auro 3D (via paid upgrade). All three codecs are able to drive overhead speakers for a true 3D sound experience. And thanks to the receiver's 9 high quality amplifier stages, each providing 125 W of pure Marantz power and finesse, you can drive a full 5.1.4 home cinema setup without the need of additional external amplifiers. The SR7011 features high grade audio components that have been carefully selected. The whole internal circuit further enhances audio quality by delicately handling all signals via the Marantz-own HDAMs (Hyper Dynamic Amplifier Module) in Current Feedback topology before passing them on to the power stage to fire up the connected speakers.
The SR6011
9.2 Channel Full 4K Ultra HD AV Surround Receiver with Bluetooth and Wi-Fi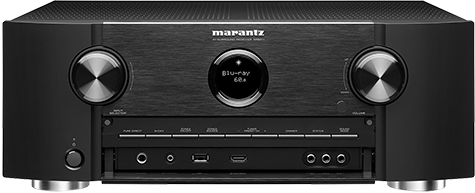 Immerse yourself in stunning 3D surround sound with the new SR6011 AV receiver featuring Dolby Atmos and DTS:X surround decoding. Both Dolby Atmos and DTS:X feature object-based surround sound with the ability to drive overhead speakers to deliver the ultimate immersive 3D audio experience. To enjoy the immersive 3D sound with all ease the SR6011 is equipped with 9 channel amplification, which means you can setup a 7.1.2 or 5.1.4 3D experience without the need of external amplifier.
Prepared for the future, the SR6011 features an advanced video section that's fully compatible with the latest HDMI 2.0a and HDCP 2.2 specifications on all 8 HDMI inputs.
The SR5011
7.2 Channel Full 4K Ultra HD A/V Receiver with Bluetooth and Wi-Fi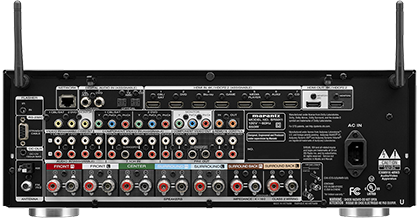 Packed with the latest audio and video technologies, the Marantz SR5011 lifts your Home Theater to a new level. Featuring Dolby Atmos and DTS:X (via firmware update), you can enjoy breathtaking 3D surround sound with today's advanced movie soundtracks. The SR5011 is made out of carefully selected, high grade audio components and Marantz-own HDAMs (Hyper Dynamic Amplifier Module), delivering the renowned Marantz Hi-Fi and Home Theater sound.
With 8 HDMI inputs, including one conveniently located on the front pane for quick connection of video sources, the SR5011 has an advanced video section supporting the latest HDMI 2.0a specification, including 4K Ultra HD 60Hz video, 4:4:4 Pure Color sub-sampling, High Dynamic Range (HDR) and 21:9 video, 3D, and BT.2020 pass-through support on every input.
View the complete specs for the SR7011, the SR6011 and the SR5011 on the Marantz website.