Introducing the NAD C 388, C 368, and C 338 Hybrid Digital DAC Amplifiers. Intelligent. Powerful. Efficient.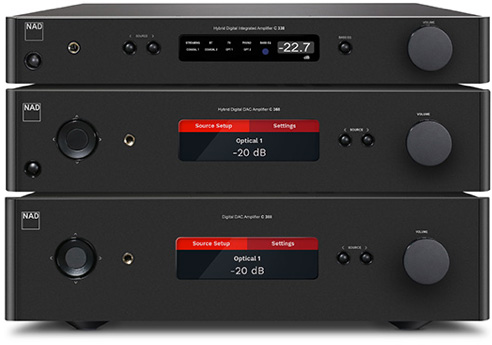 Expansive Power with Unprecedented Flexibility.
The Forever Classic amplifiers from NAD tie together all the critical elements of a top performing music system; music sources past, present, and future, in addition to providing a nearly unrestricted reservoir of power that allows your speakers to reveal every nuance of musical detail. These advanced amplifiers include many cutting edge technological breakthroughs developed by NAD over decades of creating affordable ultra-high performance audio components.
Getting the Basics Right
NAD includes an MM Phono stage with precisely accurate RIAA equalization, high overload margins, extremely low noise, and an innovative circuit to suppress infrasonic noise that is present on all LPs – all without affecting bass response. The line inputs can accommodate all kinds of analogue source components by offering ideal input impedance characteristics with linear ultra-low-noise buffer amplifiers to prevent any sonic degradation caused by inappropriate loading of the source device.
C 388 Integrated Amplifier: $1599
C 368 Integrated Amplifier: $899
C 338 Integrated Amplifier: $649
Check out the new line of Forever Classic NAD amplifiers on their website to learn more.