With Sonos, a system of HiFi wireless speakers and audio components, you can unite your digital music collection in one app that you control from any device. Play what you want in every room over a dedicated wireless network.
Sonos wireless speakers are custom designed for every space in your home. From the compact PLAY:3 to the TV-compatible PLAYBAR, these products will fill any room with crystal clear HiFi sound at any volume.
See how it all works.
Let's face it—you love music. But you really don't like the way it sounds on your 5-yr old laptop; especially when you have a new 7.1 home theater system or a 2-channel stereo in your room—or down the hall. The Sonos Boost and Sonos Connect are here to help. Stream digital audio to any stereo system in your house. Sounds cool, right? Wait until you hear it!
Sonos Boost
No skips, delays or drops – even in homes with wireless problems
Comparable broadcast strength to expensive enterprise-grade routers
Offers complete, 360-degree signals through walls and ceilings
Neutralizes network interference from other wireless devices
Sonos Connect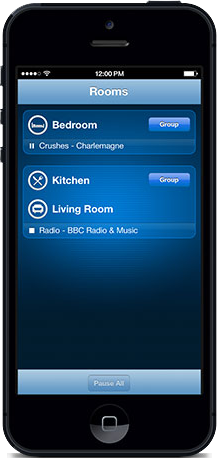 Stream your personal music library (iTunes), favorite music service (Tidal, Deezer, Pandora, Spotify), internet radio station (SiriusXM, Stitcher), tv show or podcast to any room in your home. You can even control it remotely with the Sonos Control
The Sonos Connect includes analog and digital (coaxial and optical) outputs for connecting an external digital to analog converter, as well as analog inputs (for passthrough connections from other audio sources, such as a CD player). As with other Sonos products, it can be controlled on an iPhone, iPod Touch, iPad, Android phone, or many Android tablets (including the Kindle Fire) by downloading a free app.
The Sonos Boost is just $99, and the Sonos Connect is $349.
Sonos SUB
Fills any room with deep, clear HiFi sound
Wireless, one-button setup
Seamlessly integrates with the Sonos System
Place it anywhere in the room—even lying flat under a couch
The Sonos SUB is $695.
Sonos PLAYBAR
Complements HD television screens with richly textured HiFi sound.
Wirelessly streams all the music on earth.
Simple to set up, control and expand. Requires just two cords: one power cord, one optical cord (both included). Syncs with other Sonos speakers wirelessly.
Understands and speaks most IR remote's language and can be controlled by free apps for your Android®, iPhone® or iPad®.
Plays all sources plugged in to your HDTV: cable/SAT boxes, Blu-ray players, and video game consoles. If it's connected to your HD TV, PLAYBAR will play it.
The Sonos PLAYBAR is $695.
Sonos PLAY:3
The most versatile wireless speaker for rich, room-filling sound.
Start with one music player, expand everywhere
Control wirelessly, easy to set up music player
Stream your entire music library, music services, and radio stations
Versatile enough to put anywhere—horizontal or vertical
Sonos PLAY:5
The original, bigger room, bigger sound wireless speaker.
Six custom-designed drivers with dedicated amplifiers.
Trueplay tuning delivers sound that's true to the music and right for the room.
Control all your music and streaming services from a single app (on your smartphone, tablet or computer).
Uses your WiFi. Easy to set up and allows you to expand your system over time.
The PLAY:3 is $299, and the PLAY:5 is $499
For more information on all of these products please visit the Sonos website.