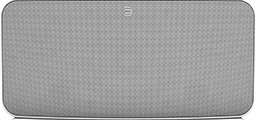 Bluesound is an alliance of audiophiles dedicated to delivering on the promise of wireless, digitally-perfect high-fidelity audio.
Digital audio got its start like any other new technology. It was amazing and new – limited and imperfect – and naturally became the adopted standard for the next generation. Bluesound engineers love technology, but they love music even more. To them, digital just wasn't up to par, so they decided to set out and raise the bar on digital so that audiophiles and music lovers would hear what they've been missing since digital audio came into existence. Even 16-bit CDs have only about half of the audio spectrum that the master recording holds, and that's a whole lot more than MP3s have left in them. With more than a decade of compressed audio piping through earbud headphones and cheap dock players, the time had come. The portable players we all love have created a new way of listening to music, but there hasn't really been much there to hear. Until now. Enter true 24-bit HD digital audio.
Get your music out of your head and into the room. After all, music was meant to be shared! The engineers at Bluesound are passionate about musical detail, texture and volume (they're not just talking about decibels here), and they've painstakingly designed a cutting-edge pure digital platform that delivers on the total HD audio experience. Audio reproduction just like the moment they recorded it in the studio. Just like the musicans themselves wanted it to be heard. Add internet radio and online music services to your own digital audio library to the mix. Sound good? They think so. And so do the critics.
For more details visit the Bluesound website.