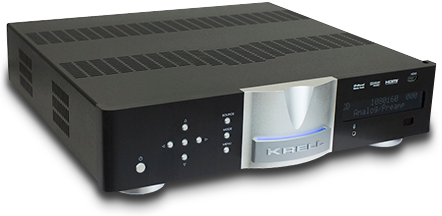 Krell Industries, LLC designs and manufactures high performance audio and video equipment for serious music enthusiasts and home theater aficionados. Every Krell component is a unique synthesis of science and art. Recorded performances are, by their very nature, works born of passion. Their goal is to bring that passion to life in your home. From source to loudspeakers, Krell components reproduce the definitive music and home theater experience based on the principles of innovative engineering, impecable build quality, and unerring accuracy in sonic reproduction.
Foundation, is the latest in a long line of state-of-the-art A/V processors from Krell. Featuring the latest digital connectivity, the Foundation also maintains Krell's exacting standards for analog audio reproduction.
From decoding the latest lossless audio formats, extensive digital switching, 3DTV pass-through, and more, the Foundation is fully compliant with the digital age. Yet the 7.1-channel processor also features balanced audio outputs, automatic setup and room EQ, and Krell's legendary robust hardware. A slim new form factor exudes the Krell aesthetic, while allowing placement in smaller equipment racks.