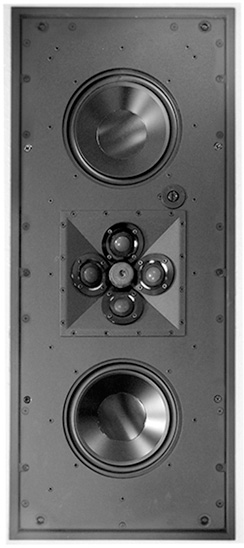 James Loudspeaker is an industry leader and innovator in both high-end residential and commercial speaker solutions for indoor, outdoor, and marine. Designed and manufactured since 1999, they take pride in their sound innovation, unprecedented custom work, and flawless sonic reproduction. All James products are specially designed with minimal visual speaker presence in your interior or outdoor landscape designs. The result is solid sonic precision in the beauty of your surroundings. Almost 100% of their products are proudly designed and manufactured in the United States.
QX Series In-Wall Speakers
QX Series combine elegant, modern style with James legendary audio performance. New border-less aluminum grilles have less than 3/16" of trim, giving these speakers a clean, streamlined appearance that seamlessly integrates into any designed space. The grilles attach via grille cups, for simple, quick installation. A one-step paint process saves time compared to traditional in-wall/in-ceiling speakers. QX Series speakers are available in two configurations (2-way & 3-way), and in various audio performance levels, allowing the designer and installer to choose the shape best suited for the architectural space while providing the level of sound quality desired by the client. QX Series speakers feature aluminum cone woofers with Santoprene rubber surrounds and quad aluminum tweeter arrays that deliver reference-quality sound. The new quad tweeter array was designed to provide greater dispersion which helps direct the sound at listeners for excellent stereo performance, even in rooms with speakers mounted in less than perfect locations. QX Series speakers feature a unique three piece installation method employing a light weight frame, independent speaker body and border-less grille. All enclosures are constructed of aircraft/marine grade aluminum, making these speakers a perfect choice for any vessel or outdoor environment.
View more James speakers on their website.