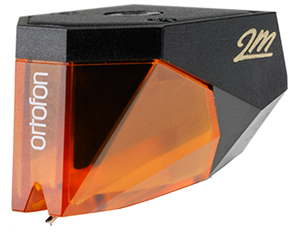 Ortofon is the world's leading specialist and a developer of acclaimed HiFi phono cartridges, tonearms and high-end audio cables. Our products provide the most faithful and correct reproduction of analog recorded sound. Ortofon DJ cartridges, styli and headphones are applauded by DJs, musicians and discerning listeners alike. Delivering highly accurate sound reproduction, Ortofon Concorde and OM cartridges are the DJ community's favorite choice.
The Ortofon 2M is designed for precise and accurate retrieval of the information in the record groove. Their philosophy is to play the record sound as accurate as possible, without coloring the sound. They have optimized the design for ease of mounting the cartridge, weight and size to fit the most common turntables at the market today. The 2M Bronze features a nude Fine Line diamond stylus, which is particularly suited for demanding applications. The slim profile of the Fine Line stylus will track even the highest frequency information, making it a must for discerning listeners. Additionally, its larger footprint ensures reduced distortion and record wear.
Visit the Ortofon website for more information.