Proudly serving Hartford County, CT and New England as their premier audio & video retailer and system integrator since 1988.
The Audio Store is at the very vanguard of custom home theater design, cutting edge home automation systems, and 2-channel stereo systems. We can help you control your house with elegantly simple Vantage touch panels, smartphones, and tablets controlling your lighting, music/video servers, internet streaming audio & video, HVAC, cameras, QMotion drapes, security and more!
We specialize in consultation, design and custom installation of home automation systems, dedicated home, enterprise grade wi-fi networks, and audio/video components. If you're building a home, revamping a lower level, converting a basement into a man cave, or adding a bonus room get The Audio Store involved at the beginning of the project. We can give you the benefit of more than 60 years of experience in wiring, design, and custom installation – everything from turntables and home theater receivers, to invisible, in-wall speakers. We will work with you and your contractor/architect/designer to meet your needs and achieve the home of your dreams.
Come experience one of Connecticut's best dedicated home theater rooms complete 
with a Runco state-of-the-art video projector, Stuart 2:35 CinemaScope wide screen, high-end 4K Blu-ray player hidden in a Salamander Designs cabinet, with high-performance Meridian speakers and electronics all pinning you back into plush, comfortable (Vibrating!) theatre seating by Acoustic Innovations and Fortress. Phew.
The Audio Store also proudly features products from top home theater/stereo companies like Paradigm, Marantz, and NAD. We can get you into a superb, no-excuses, specially priced home theater/surround system (Marantz 7.1 surround sound receiver, Sony 4K Blu-Ray player and 
5 Paradigm loud speakers and subwoofer) or a two channel stereo system we know you'll love! Or, step up to the new Anthem MXR home theater receivers for a little more dough and a lot more wow! Support it all on a dedicated wi-fi network with a Pakedge Wireless Access Point and router/gateway. This truly is real Big Boy stuff–not the shabby little toys the Big Box stores "promote".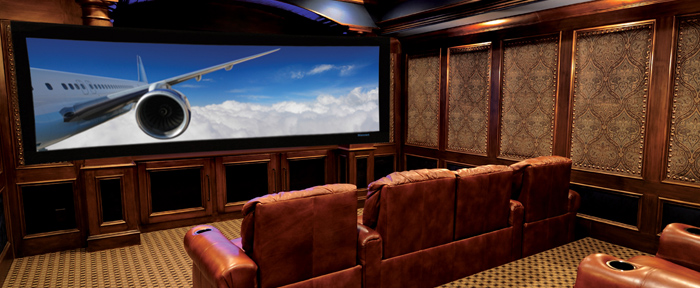 Just want a cool 4K 65" OLED from LG or Sony? How would you like to add some air, color and snap to those streaming music sites like Spotify, Apple Music, Tidal, Deezer, Pandora, or those iTunes and digital files malingering in your computer? Do you have a Bluesound, Paradigm DTS Play-Fi, SONOS, or HEOS system? Meridian's 218 DAC, or Bel Canto outboard DAC's and NAD digital amplifiers resuscitate your music collection to the point where you literally hear it anew! And for those two channel and turntable enthusiasts (vinyl is back!), come hear with your own ears 
world class, high-end stereo gear featuring Bel Canto, Krell, Parasound, Meridian Sooloos, Paradigm, Focal, and KEF speakers. Plug it all into a Furman or Quantum power conditioner running power cords from Audioquest and Nordost to smooth everything out. Finally, throw on a pair of Grado or Focal headphones for the ultimate stereo experience!
As a postscript, if you have a situation, or need, not covered in our specialties, please contact us. 
If you have a question about one of the products listed in our Blog please call us; because, after all, it's not about us–it's about you!