Niagara 3000
Redefining the Science of Power Conditioning
The science of AC power delivery is not a simple one; it demands focus, and the devil is in the details. In fact, the great increase in airborne and AC-line-transmitted radio signals, combined with overtaxed utility lines and the ever-increasing demands from high-definition audio/video components, has rendered our utilities' AC power a somewhat antiquated technology.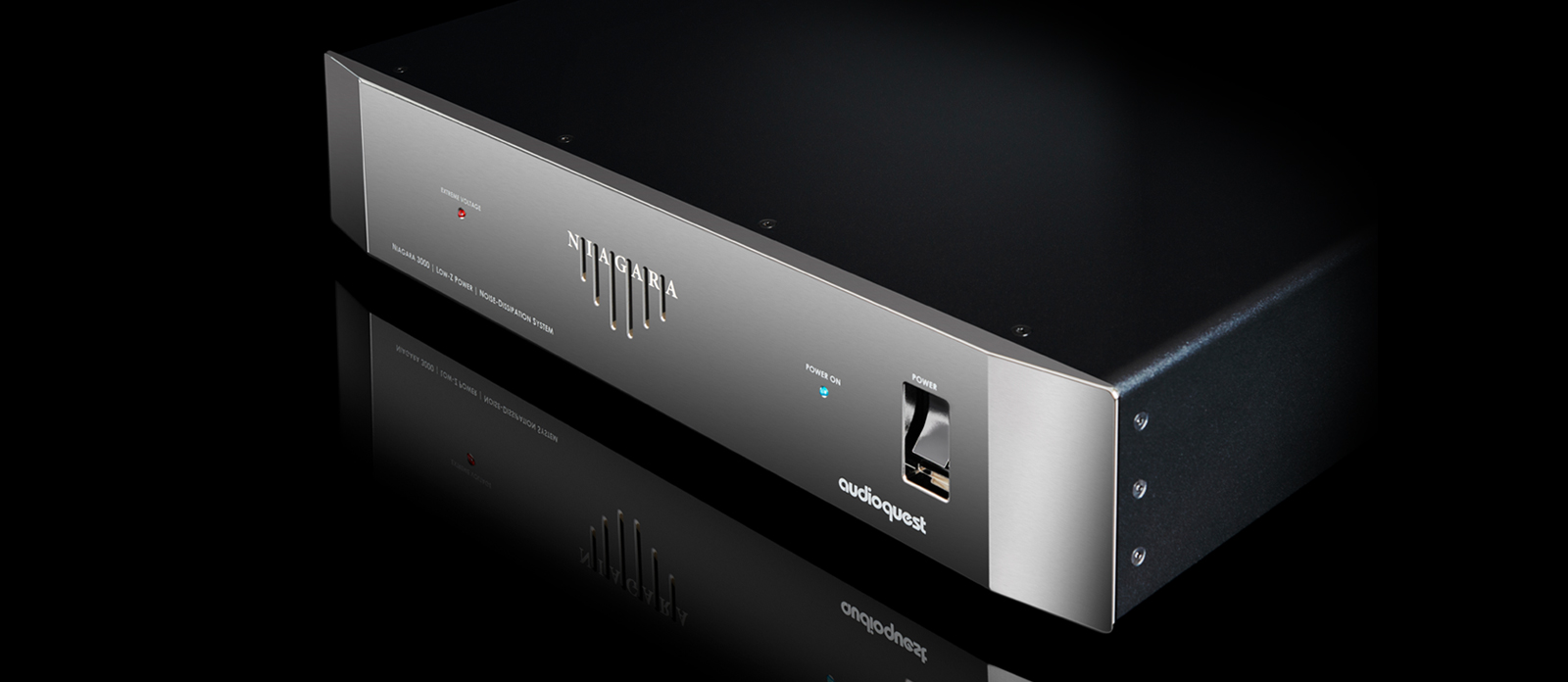 Where Alternating Current (AC) is concerned – relying on a century-old technology created for incandescent lights and electric motors – technology that was certainly never meant to power the sophisticated analog and digital circuits used in today's premium audio/video systems. To properly accommodate the promise of today's ever-increasing bandwidth and dynamic range, Audioquest has achieved extraordinarily low noise across a very wide range of frequencies with the Audioquest Niagara 3000.
For AudioQuest, honoring the source is never a matter of simply using premium "audiophile-grade parts" or relying on a proprietary technology. For years, they have all been witness to the same, seemingly endless audiophile debates: valves versus transistors; analog versus digital; can cables really make a difference?; and on and on. They realize that true audio/video optimization is never a matter of any one secret or exotic circuit. When it comes to noise filtering for AC power, many approaches can yield meaningful results. However, these approaches may also impart ringing, current compression, and non-linear distortions that can render the cure worse than the disease!
Niagara Series
AudioQuest Niagara 7000 - $9,499
AudioQuest Niagara 5000 - $4,999
AudioQuest Niagara 3000 - $2,999
AudioQuest Niagara 1200 - $999
For more details visit the Audioquest website.
SurgeX is the leading manufacturer of premium AC power conditioning products for the Pro and Residential audio, video, broadcast, and multi-media marketplace. 

Superior to conventional MOV surge supressors, SurgeX Advanced Series Mode technology is the only power protection product line in the market that completely eliminates surge energy without producing harmful side effects such as ground contamination or common-mode disturbances. 

Home theater and audio equipment requires clean, safe power to perform at its peak. Now with the SurgeX XR315 you can protect equipment, like the pros. Engineered with professional grade Advanced Series Mode® Surge Elimination Technology and Impedance Tolerant® EMI/RFI noise filtering, CouVs® Catastrophic Over-Under Voltage Shutdown, and ICE® Inrush Current Elimination Filter, the SurgeX XR315 is the premier residential AV power protection product in the market that eliminates surges and transients that can degrade AV system performance. Built with a customizable program interface and remote control, the SurgeX XR315 works in harmony with your home theater system and can be used in concert with the sequential features of SurgeX's XQ515.
Furman has been producing high-quality products since 1974. Their products fall into three broad categories: the professional audio and video signal processors on which the company was founded, the trusted AC power conditioning and distribution products for which they are best known.

Applications for these products are no longer limited to music; Furman's product applications span a wide range of markets. Their highly acclaimed CE line, established in 2001, incorporates a complete line of AC power management products specifically engineered for today's custom home theater and audiophile systems. Additional applications for their products include sound reinforcement; home and professional recording; post production; broadcast systems; commercial audio/video installation; and commercial/residential energy monitoring and management.
Elite Series
Furman Elite-15i - $515
Furman Elite-15PFi - $940
Furman Elite-20PFi - $1,615
Reference Series
Furman IT-REF 15i - $3,070
Furman IT-REF 20i - $4,915

QUANTUM RESONANT TECHNOLOGY
Quantum Resonant Technology was originally established in 1997 to investigate the application of Scalar field effects in the medical and electronics fields. The first audio related magnetic field stabilizers appeared in 1999, rapidly gaining significant critical acclaim and sales success, particularly in the high-end AV market where the dramatic impact of these devices on display quality was quickly appreciated.
Today's QRT products are much more powerful developments of those original devices, specifically developed to optimize power supply quality and distribution within high-end audio and video systems, as well as the medical imaging field.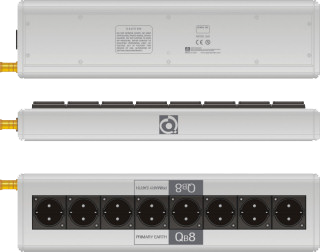 Quantum's QBASE distribution blocks are the heart and very basis of the high quality AC supply that your system demands. Deceptively simple in appearance, there is actually far more to them than meets the eye.
QRT QBASE QB4 Mark II 4 outlet AC distribution unit - $950
QRT QBASE QB8 Mark II 8 outlet AC distribution unit - $1,600
QRT QPOINT Electromechanical resonance synchronizer - $750
QRT QSOURCE Linear DC power supply with selectable voltage - $2,500
QRT QKOIL QK1 AC load resonating coil / AC Enhancer - $250
QRT QKOIL QV2 AC line harmonizer - $350